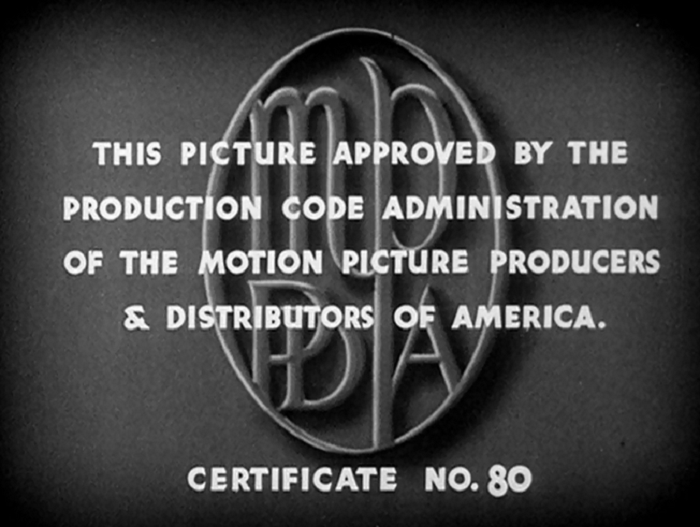 THE MOTION PICTURE PRODUCTION CODE, ALSO KNOWN AS THE HAYS CODE, WAS A SET OF MORAL GUIDELINES THAT ALMOST ALL OF THE MAJOR HOLLYWOOD STUDIOS HAD TO FOLLOW FROM 1934 TO 1968. NAMED AFTER WILLIAM H. HAYS, THE PRESIDENT OF THE MOTION PICTURE PRODUCERS FROM 1922 TO 1945.
The films that we call pre-code are the films done between the dawn of the talking picture and when the code was enforced in the mid-thirties. Pre-code films had a sense of freedom, with lots of social standards being questioned, creating some of the most exciting of films. Think movie-monsters, risque costumes, nudity, crime, and free-thinking.
Come 1922, after a handful of risque films, the studios hired Hays to help Hollywood's image. A simple clean up, nothing too drastic. This idea was brought on because of a handful of scandals that involved some of the studio's stars.
In 1927, Hays created a committee with Irving G. Thalberg of MGM, Sol Wurtzel of Fox, and E. H. Allen of Paramount. Creating a list called "DON'TS AND BE CAREFULS." A list based on items that were challenged by local censor boards. Eleven subjects to be avoided and twenty-six to be careful with.
Two parts of the code included, "general principles," which was to prevent the "lowering of moral standards of those who see it." The second was a set of "particular applications", a list that could not be depicted. A ban on homosexuality and curse words. The code would not only determine what would be shown on screens but as well as to promote traditional values, ones that the Catholic Church agreed with, as the church was involved as well: no sexual relations outside of marriage (something that was common within pre-code films), these sexual relations could not be depicted as romantic or beautiful, but as horrible. All criminal actions had to punished, with the crime being branded as wrong. Authority figures had to be represented with respect, and could not be portrayed as comical of villains. (Gangster films had to become smart to get their stories across).
The rating system we know now, PG - PG13 - R; replaced the code.
A QUICK RUNDOWN OF THE CODE:
ONE.
Pointed profanity. This includes the words: "God", "Lord", "Jesus", "Christ," unless used within proper religious ceremonies. "Hell", "damn", and "Gawd", no matter how spelled is also banned.
TWO.
No nudity. Not, in fact, hinted, or in silhouette.
THREE.
Illegal traffic in drugs.
FOUR.
Any inference of sex perversion.
FIVE.
White slavery.
SIX.
Sex relationships between white and black races.
SEVEN.
Sex hygiene and veneral diseases.
EIGHT.
Scene of childbirth, in fact, or in silhouette.
NINE.
Children's sex organs.
TEN.
Ridicule of the clergy.
ELEVEN.
Willful offense to any nation, race or creed.
TWELVE.
The use of the flag.
THIRTEEN.
Arson.
FOURTEEN.
The use of firearms.
FIFTEEN.
Theft - robbery - or dynamiting of trains and buildings.
SIXTEEN.
Methods of smuggling.
SEVENTEEN.
Third-degree methods.
EIGHTEEN.
Hangings or electrocutions as legal punishment for crime.
NINETEEN.
Sympathy for criminals.
TWENTY.
Sedition.
TWENTY-ONE.
Apparent harm to children and animals.
TWENTY-TWO.
Rape or attempt rape.
TWENTY-THREE.
First-night scenes.
TWENTY-FOUR.
Man and woman in bed together.
TWENTY-FIVE.
The deliberate seduction of girls.
TWENTY-SIX.
Surgical operations.
TWENTY-SEVEN.
The use of drugs.
TWENTY-EIGHT.
Lustful kissing. No kissing criminals.
The directors and actors had to be smart to tell a story around these rules. Lots of films lost something special, attempting to move around, hoping audiences could pick up clues as to what was really happening as they could not show it. While other directors and filmmakers excelled, using a handful of techniques to get their stories across.
I do often wonder, if without the code, as a society we would be further along when it comes to all sorts of issues.