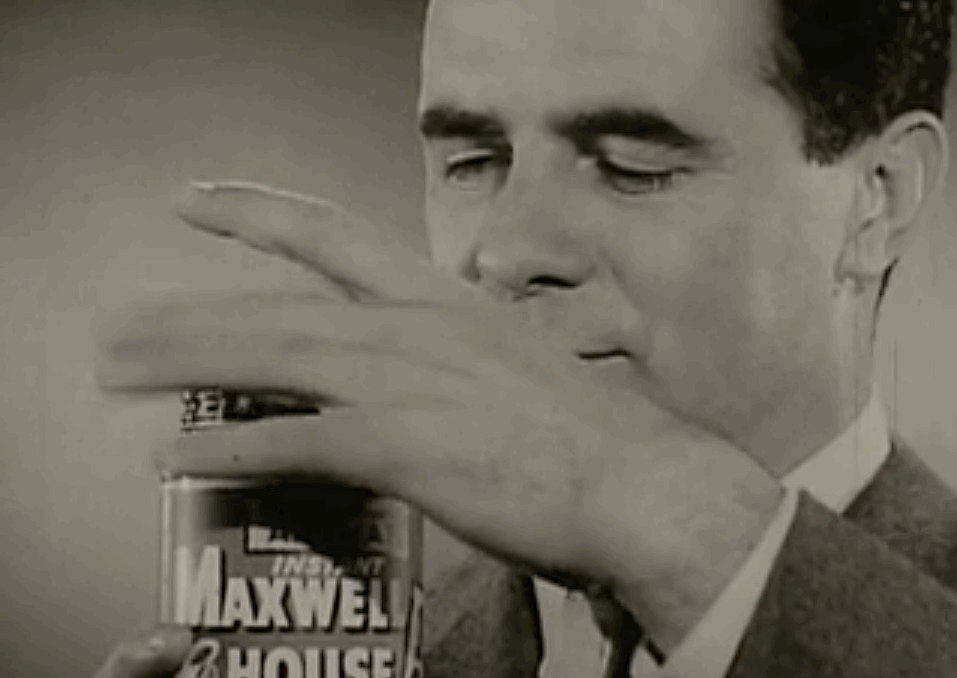 MAXWELL HOUSE INSTANT COFFEE COMMERCIAL, 1950s.
A COLLECTION OF TELEVISION PROGRAMS FROM THE 1950s.
DATE AIRED: OCTOBER 4TH, 1950.
DATE ENDED: JUNE 29TH, 1961.
"AND NOW, HERE HE IS: THE ONE, THE ONLY.."
YOU BET YOUR LIFE
was a quiz show that aired on both radio and television, hosted by Groucho Marx of the famed Marx Brothers, with George Fenneman as the announcer and assistant.
The last episode for the radio program was
JUNE 10TH, 1960
, with the television program running until
JUNE 29TH, 1961
.
Two people would be selected from the studio audience and on occasion, a famous person would also appear, as well as an interesting figure that would be invited to appear on the show. Grouch would then get to know the contestants, asking questions and ad-libbing most of his set. Depending on time two or three pairs would come up to bet their life and attempt to win a cash prize, in which the total of cash would depend on their answers to a series of questions. An extra one hundred dollars was also offered if someone said the secret word, for example, foot, newspaper, dog.
In the mid-forties, Marx was dealing with a downward in his career. With a failed radio program under his belt, he appeared on the Bob Hope radio program in March of
1947
, where he ad-libbed most of his performance. Hope's producer loved the set and asked Groucho about doing a quiz show, where he would be able to ad-lib most of the set. Reluctant at first, Groucho agreed once he realized that the quiz's format would be a backdrop to his ad-libbing.
NAME: THE LORETTA YOUNG SHOW.
DATE AIRED: SEPTEMBER 2ND, 1953.
DATE ENDED: JUNE 4TH, 1961.
THE LORETTA YOUNG SHOW
first known as
LETTER TO LORETTA
was a dramatic anthology drama, one that showcased a new scene and characters each episode. Each episode began as Loretta twirled into a room, each week showcasing a different dress, she then read a letter from a fan, one who needed advice about a particular subject. The advice to the writer of the letter would be given through a scene, one with an entire set, subject, and characters.
The format of the show gave Loretta a chance to perform as a handful of different characters, showcasing the length of the actress's range.
TRIVIA: LORETTA HAD A SWEAR JAR ON SET OF HER SHOW, WHICH WAS DONATED TO CHARITY OFTEN.
NAME: THE RED SKELTON SHOW.
DATE AIRED: SEPTEMBER 30TH, 1951.
DATE ENDED: AUGUST 1ST, 1971.
Like that of
YOU BET YOUR LIFE,
the
RED SKELTON SHOW
was a radio program before it was brought to television. Airing from 1951 to 1971, the show was an entertainment staple, becoming a defining program to a generation of viewers. Skelton, who wanted to be labeled a "clown" performs stand up routines, old vaudevillian sets, and acts in sketches as a handful of different, distinct characters. Some of the characters include "DEADEYE", an inept sheriff in the Old West, "CAULIFLOWER MCPUGG", a drunk boxer who still hears the birds and the bells, "JUNIOR, THE MEAN WIDDLE KID", and others.
THE SHOW WOULD WIN A HANDFUL OF AWARDS, SUCH AS THREE EMMY AWARDS, AND A GOLDEN GLOBE FOR BEST TV SHOW.
MAXWELL HOUSE COMMERCIAL, 1950s.