AT THE AGE OF THIRTY-EIGHT
, IN THE STILL AND SILENT MASTER BEDROOM OF HIS MOUNTAINSIDE HOME IN BEVERLY HILLS,
THE SCREEN'S GREATEST LOVER
, PASSED AWAY. HIS NAME WAS
JOHN GILBERT
. THE DATE WAS
JANUARY 9TH, 1936
.
The Los Angeles Times reported the following morning. "
HIS DEATH FROM HEART DISEASE CLOSED ONE OF THE MOST COLORFUL CAREERS IN THE HISTORY OF THE FILM INDUSTRY AND THREW HOLLYWOOD INTO MOURNING FOR HE WAS BELOVED BY ALL WHO KNEW HIM.
"
He has become the poster child for the "
ruined by sound
" actor. A misunderstood man who has become somewhat forgotten, and most underappreciated. The "
matinee idol
". A term that has changed since the silent film era. The magazine
MOTION PICTURE
in
1918
called it "
an actor with eyelashes.
" It was something to strive for during his time, unlike now, where this term can undermind an actor, a "pretty boy", one that lacks heart or feeling, something nice to look at without real talent behind it. Gilbert was far different. He understood that his role to his female audience was to evoke dreams within them, romance and adventure. But, he also understood that acting was far more complex than simply walking in front of the camera. Giving the handsome lead a sense of reality. One could meet him in person, it could happen. A depth that some leading men at this time sometimes lacked. Valentino was the dream man who existed only in the silver screen, whilst Gilbert was the dream man who lived outside of it, bridging the gap between
FANTASY AND REALITY
.
AND NO MATTER HOW MANY
historians time and time again, explain that Gilbert made eleven somewhat successful sound pictures and that it wasn't his voice that killed his career but that is was, in the simplest form, a change in times, which made his persona seem outdated, it gets thrown out the window for a much more dramatic and degrading tale of "
matinee idol with horrible voice, kills career.
" He becomes a mere footnote. Another career down the toilet. Proof that the transition to sound turned the picture industry on its head. A
quick, neat, and easy way
to dismiss a top-office draw of the
1920
s. Gilbert deserves far more than this, he took the title "
matinee idol
" and made it his own,
transcending the term both then and now.
JOHN GILBERT was born
JULY 10TH, 1897.
Born in a cheap rooming house in Logan, Utah. Gilbert's life as a child was met with neglect and never knew his real father. His mother was an unknown actress, who left a low-level touring company to give birth to a child she did not want.
Before being sent to the HITCHCOCK MILITARY ACADEMY in California, his mother married Walter Gilbert, who gave the child his last name, a name that stuck. BY THE TIME GILBERT was in his late teens, his mother had passed, and his stepfather, a theater director knew someone who worked at THOMAS INCE'S studio. Gilbert began working up the later from extra to studio player. Working at all the major studios of the time.
Gilbert's acting debut came at an early age, with his first film appearance, uncredited, came in
1915
. Under the name Jack Gilbert, he had supporting roles in over forty films, from
1916
through
1920
. At this point, producers had already figured out that Gilbert was good at "
looking pretty and following instructions."
THE GREAT REDEEMER
, released in
October of 1920
is said to be the picture that showed he was much more than a behind-the-scenes contributor, though reviews from this time do not have him listed as an actor in this picture but do refer to his having adapted the story on which it's based. Two other pictures before on the other hand feature him as well, though not outright. Both released in
1919
,
THE BUSHER
, with CHARLE RAY and COLLEEN MOORE, and
THE HEART O' THE HILLS
, a vehicle for that of MARY PICKFORD.
LIKE THAT OF VALENTINO,
(his rival with women audiences)
Gilbert is sophisticated
and moves with grace. Oozing confidence, appearing dramatic, even playful at times, all without embarrassment. And Gilbert in real life as well as in his pictures maintained an image of a wealth-filled upbringing when it could not be farther from the actual truth.
IN
1921
that more mature sounding name of John Gilbert was now being used, with his first leading role in the picture
SHAME
. He would go on to star in
21
pictures for the Fox Film Corporation from
1921
through
1924
.
HE WHO GETS SLAPPED,
the
1924
vehicle picture for LON CHANEY, who was at his peak in popularity, also starred that of NORMA SHEARER. It showed Gilbert in a different kind of role. In a small romantic lead part, as
Bezano
, a circus daredevil who falls in love with Shearer. His performance is scattered, with one extended sequence where his and Shearer's character go on a picnic, the sunlit scene is veiled with a romantic, innocent glow. As ants eat at their food, the couple romps around, falling head of heals in the grass, whilst kissing and laughing. This simple scene is the essential essence of what Gilbert's entire persona will become:
the man in love
.
TWO THINGS MADE his career take off. One, he was in a LON CHANEY picture, and two, he played two lovers back-to-back, which presented him in such a fashion that female audiences could not forget, presenting him as the
ultimate lover
. And off-screen his contemporaries found him charming though prone to mood swings.
He smoked too much and drank too much
, and
Louis B. Mayer
hated him. Gilbert was from a low-class family, without proper education, his on and off-screen persona was that of an aristocrat. From the way, he dressed, spoke, and worked. This angered Mayer, who himself tried to appear more sophisticated than he was raised. Mayer's feelings would have to be put aside, as
Gilbert's stardom was growing
, offering the studio opportunities to make funds.
GILBERT finished
1924
with two more films,
THE SNOB
and
WIFE OF THE CENTAUR
.
1925
would see Gilbert in two of Hollywood's most celebrated pictures:
THE MERRY WIDOW
, directed by ERICH VON STROHEIM, and
THE BIG PARADE
by KING VIDOR. Gilbert was full of luck during this time, being still somewhat a newcomer, it was quite rare for an actor to play the leading part in films of this quality, especially in a single year. These two films cemented his reputation,
he was a leading man, first-rank with a dedicated following
. And after the release of
THE BIG PARADE
, he was offered a four-year, million-dollar contract with
MGM
.
1925
also cemented the roles Gilbert would be known for:
the man who lived to love a woman
&
the empathetic everyman.
It was also the same year that MGM signed GRETA GARBO.
COME
1926
, Gilbert's "great-lover" persona was at its peak, with the film
LA BOHEME
. He is Rodolphe, the romantic hero, opposite of LILLIAN GISH as Mimi. Gilbert is the quintessential
1920s
matinee idol but at the highest form. His white teeth flash around the screen, as he stands, feet spread, hands placed on his hips as he throws his head back, laughing.
Dressed in dramatic full-sleeved white blouses, large hats with feathers poking out, and tall boots.
GILBERT'S ROLE was one that audiences had not grasped before, that this man, frolicking through a field, can be feminine, overcome with passion and love, as well as masculine, appreciating the appearance of a woman and her allure over him.
BY
MID-1926
RUDOLPH VALENTINO WOULD BE DEAD, passing in August. He was Gilbert's single most successful rival. After his death, Gilbert would become the single most talked about matinee idol. He was the topic of fan magazines, photographed on end, gossiped about, and adored. MOUNTAINS and mountains of fan mail poured in.
John Gilbert was a name everyone knew and would not stop talking about
.
FLESH AND THE DEVIL
. The silent melodrama that brought Gilbert and Garbo together. CLARENCE BROWN, the director of the film, said of the two: "
THEY WERE IN THAT BLISSFUL STATE OF LOVE WHICH IS SO LIKE A ROSY CLOUD THAT THEY IMAGINED THEMSELVES HIDDEN BEHIND IT, AS WELL AS LOST IN IT.
" The relationship between Gilbert and Garbo has been talked about in countless books on the subject of these two or silent films in general. Their romance on screen is not one to poke fun at. Gifted actors with once in life-time chemistry. Though hundreds of sources differ when speaking of their actual off-screen romance. Gilbert was smitten, this can be stated. It was stated countless times that it seemed that Gilbert was far more in love with Garbo, then she was of him. Looking at some reports of their relationship one can determine that Garbo respected Gilbert, thought of him as an equal, spending much of her time learning the ins and outs of acting.
FLESH AND THE DEVIL
is one of the great dramatic films of the silent era and all time and one cannot deny the romance between them. (FLESH AND THE DEVIL WILL BE TALKED ABOUT MORE THOROUGHLY WITH AN ARTICLE ON IT'S OWN.) To capitalize on this new romance, MGM rushed the two into another film together,
LOVE
. With MGM promoting the picture with the tag line: "GARBO AND GILBERT IN LOVE."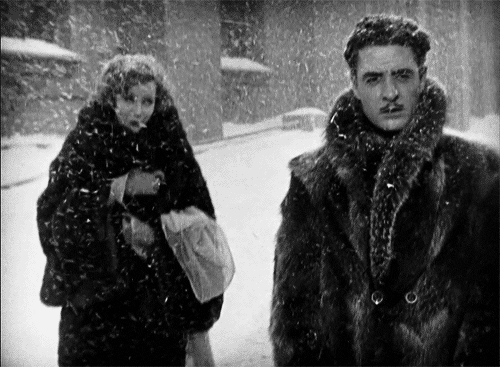 ONE OF MY FAVORITE SHOTS IN THE FILM,
FLESH AND THE DEVIL.
1927
SAW GILBERT take a more comical approach. It was a pirate film,
TWELVES MILES OUT,
with JOAN CRAWFORD. He is the Don Juan type and audiences loved it. Critics said he was "at his best". With Crawford getting rave reviews as well. GILBERT'S BEST MOVIE OF
1927
was
LOVE
, opening almost simultaneously with
MAN, WOMAN, AND SIN
. December was a big month for Gilbert.
LOVE
opened to positive reviews, with VARIETY saying: "
LOVE
PLUS GILBERT, PLUS GARBO, IS A CLARION TO SHOPPERS. SHOPPERS MEAN WOMEN AND WOMAN MEAN MATINEES. BIG ONES. TRY AND KEEP THE FEMMES AWAY FROM THIS ONE. THE GIRLS ARE GOING TO PAY FOR OFF THIS PRODUCTION COST, AND SOME MORE BESIDES.
AND HOW OFTEN DO THE EXHIBS GET A REAL 'MATINEE' PICTURE?
"
THE BUSINESS STRATEGY WAS BRILLIANT. The public is at full awareness of the couple's love affair. A plot of action takes place. Just as Garbo pulls away from Gilbert, the studio puts them in another romantic picture together. The silent version of ANNA KARENINA (
LOVE
), the kind of picture that somewhat tosses literature sources out the window. This version sweeping all subplots under the carpet. The goal of this picture: give
Gilbert and Garbo
long scenes of closeups, faces backlit, all while dressed to the nines.
He then went on to act in four more pictures in 1928 before being paired together with Garbo one more, in A WOMAN OF AFFAIRS. Gilbert's last silent film would come the following year, with DESERT NIGHTS. The coming of sound was right on the cusp of breaking.
V.
WITH THE coming of sound and it's acceptance, most actors had to attend speech classes or left the business all together come failure with their voices. As the tale goes, LOUIS. B MAYER despised Gilbert. On some accounts most think that the studio head gave Gilbert bad scripts and ineffective directors, in an attempt to get Gilbert to walk from his six picture contract at $250,000 each.
THE FIRST PICTURE to feature his voice was the all-star musical THE HOLLYWOOD REVUE OF 1929. One of the "all-talking, all-dancing, all-singing" pictures that came out of the birth of sound. Gilbert appears in a scene from Shakespeare's ROMEO AND JULIET, with NORMA SHEARER, both in glorious technicolor. Reviewers and audiences at the time hadn't noted problems with Gilbert's voice, all were pleased, some even praising it.
IT WASN'T UNTIL his role in his first official "talkie", HIS GLORIOUS NIGHT in 1929, that things started to head badly. It's this film that audiences laughed at. I believe that the picture was laughed at as a whole instead of alienating that of Gilbert's apparent tone, a more high-pitched voice than his audiences were expecting. The picture itself is comical in the sense that it was dated before it was even released; the plot, directing, and dialogue all create the sense that the picture would have been an early silent film rather than a talking picture of the late twenties or early thirties, it was deemed to foolish for modern audiences. Another problem with the picture was due to the sound recording. In the recent film, THE DAWN OF SOUND: HOW THE MOVIES LEARNED TO TALK, suggested that if the picture used proper techniques when it came to sound and recording, Gilbert's voice would have sounded fine, as his films after this did. Director KING VIDOR even stated that Rudolph Valentino would have most likely suffered the same fate as Gilbert had if he had lived. Gilbert belonged to a different kind of acting, a stilted dialogue delivery, with the "clear enunciation" style of the early talkies. And though his performances after the fact are better than others, technology was changing along with the audience's tastes. The Great Screen Lover's persona was hard to put into words, what once was true passion on the silent screen, became untranslatable comedy.
THE SCENE IN QUESTION FROM HIS GLORIOUS NIGHT STARTS AT 2:50.
And though his star-power never reached the hight it once was, he still acted. Altogether he did ten talkies. One of which was QUEEN CHRISTINA in 1933, it was his second come back. After working as a director for Fox, he returned to acting after having announced his retirement. He retired after doing a B-picture that did little to steady his career. It would be Garbo who insisted that Gilbert be her leading man. A choice she made over the studio's pick, LAWRENCE OLIVIER. The studio did little to showcase Gilbert when it came to the advertisement for the picture and most critics seemed to have forgotten him altogether.
IN 1934, Columbia Pictures handed over what would become his last film, THE CAPTAIN HATES THE SEA. The film's off-screen cast of drinkers did little to discourage his own problem with alcoholism.
BY DECEMBER OF 1935 he had suffered a serious heart attack, one that left him in poorer health than before. And another on JANUARY 9TH would become fatal. The death certificate reads acute myocarditis, the constriction of the coronary artery of the heart.
He had been married four times, none lasting more than a few years, and had two children. A private funeral was held two days later, his ashes were interred at Forest Lawn Memorial Park, in Glendale, California.
"The last attack came on January 2," said his nurse. "He appeared to get better and was able to get up and walk around the house. Two weeks ago he felt well enough to attend a luncheon." About dawn she heard his mumbling of speech. "His last words were: 'Gee but I'm awfully sleepy.'"
His death was painless. Passing in his sleep. Dr. Leo J. Madsen of Santa Monica gave the time at
7:44 a.m.
when his heart stopped beating.
REFERENCES:
DARK STAR: THE UNTOLD STORY OF THE METEORIC RISE AND FALL OF LEGENDARY SILENT SCREEN STAR JOHN GILBERT. (1985).
THE NEW YORK TIMES ARCHIVES (1936). DEATH CALLS TO JOHN GILBERT.
GRETA GARBO'S LETTERS.
FILM: THE DAWN OF SOUND: HOW THE MOVIES LEARNED TO TALK, (2007).